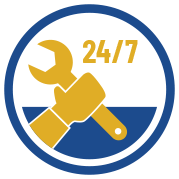 SERVICE

– BECAUSE WE ARE ONLY SATISFIED WHEN YOU ARE!
STEERING GEAR Manufacturer
• KONGSBERG / ROLLS-ROYCE: FRYDENBÖ, TENFJORD • PORSGRUNN • SCAN • HYDROSTER • TONG-MYUNG • KAWASAKI • MITSUBISHI • KGW • HATLAPA • CSSC • VAN DER VELDEN • SVEDBORG • YOOWON • HAMWORTHY • FLUTEK • ALL OTHERS
Propeller system Manufacturer
• WÄRTSILÄ-LIPS
Bow Thruster
• KAWASAKI
REPAIR / SUPERVISING
The next scheduled dry-dock overhaul is coming closer and you need a whole team for preparation? Your team needs the support / know-how of one of our qualified technicians? Your vessel is on charter and needs a repair at berth?
We can provide teams consisting of up to four technicians, for your project. They work independently and in close cooperation with the ship yards, so our customers can concentrate on their other business.
We will help you with rotary vane- and piston type steering gears, pumps, power packs, electronic steering systems, bow thrusters and propeller systems.
MAINTENANCE / INSPECTION
We don't lose sight of your needs. Lifetime can be extended by maintenance work like changing filter and oil, checking steering times and working pressures, which are recommended by manufacturers. With an inspection it can be determined, whether a steering gear is still operational or needs a repair. Our technicians can calculate the necessary time and material precisely in order to keep the costs predictable.
Due to our long-standing experience, we recommend to maintain steering gears regularly, and overhaul every 5, or the latest 10 years. That way you can avoid steering gear and charter failure due to hardly visible abrasion, at for example internal seals.
REFURBISHMENT
We have our technicians at your disposal for the refurbishment of Kawasaki bow thrusters. We also offer refurbishment of Wärtsilä-LIPS propeller systems. Be it a replacement of seals at a stern tube or refurbishment of parts – we provide the suitable specialist.